Maine is home to some stunning scenery and has clear differentiation between seasons.
For the solo traveler, there's plenty to see and do. This guide contains some great ideas for a solo trip to Portland, Maine. 
Feel free to listen to our guide or continue reading
Where Is Portland, Maine?
Maine is in the northern part of the USA, and Portland sits on the Casco Bay at the Atlantic Ocean and the Gulf of Maine.
In the west end, you'll find neatly manicured rows of townhouses while the Arts District is the cultural and creative hub of the city. 
What's The Weather Like In Portland, Maine?
If you've decided to take some 'me time' and spend a few days in Portland, ME, then you'll need to think carefully about the time of year you're planning to travel. 
Portland, and all of Maine has a very diverse climate with clear differentiation between the seasons.
If you're heading up there in winter, then you can expect freezing temperatures, a lot of snow and ice, and some heavy gusts of wind. So, be sure to pack a winter coat and your boots. 
However, if you're taking a summer solo vacation to Portland, Maine then the weather will be very pleasant.
The summer days are mainly warm although things can get a little chilly first thing in the morning and when the sun goes down so you'll still want a lightweight jacket. 
While spring sees the town starting to come back to life, most would agree that summer is the best time to visit Portland, ME.
You have nice weather, and this gives you the opportunity to explore everything the area has to offer, such as offshore islands, the Acadia National Park, and the stunning beaches. 
Why Choose Portland, Maine As A Solo Travel Spot?
You might be wondering what's so great about Portland, ME and why you'd want to choose it for your next solo adventure.
First of all, let me say that there are some places in the world where traveling alone isn't a good idea. For example, there may not be many locals or other travelers that want to make friends, or the area might not be safe.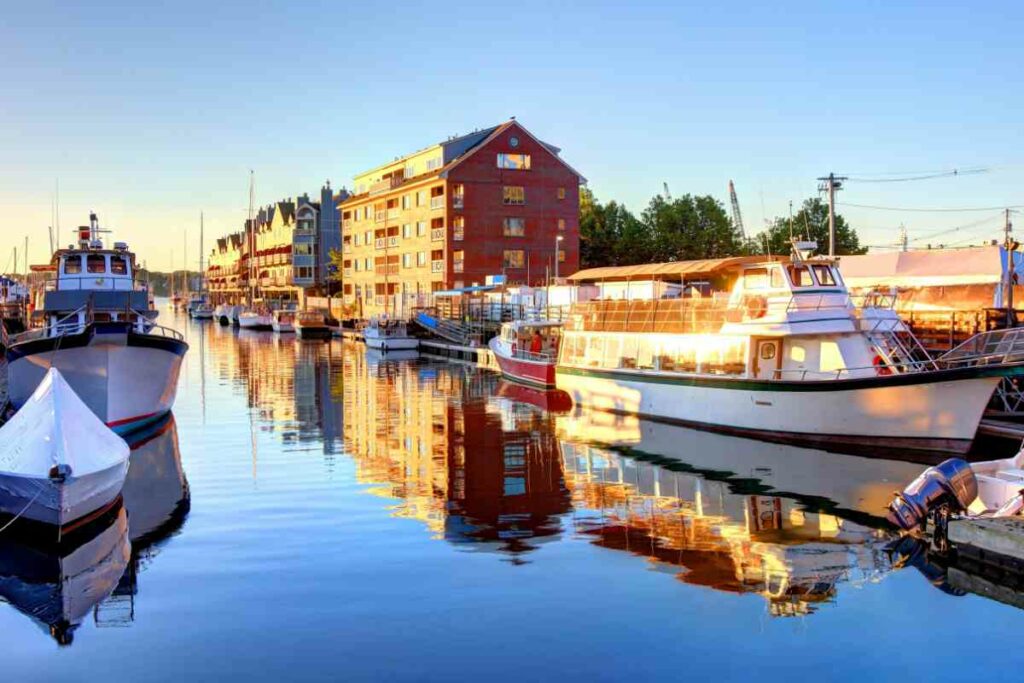 Portland is packed with visitors, especially in summer and the locals are pretty cool too.
This means that, even when you're traveling alone, there are still plenty of people to talk to. There are probably also going to be lots of other lone explorers who you can swap stories with while having drinks overlooking the ocean. 
What's More – Portland has a much lower crime rate than other similar-sized cities. It's voted at number 8 in the best places to live and number 37 in the best places to retire. So, as a solo tourist, you won't need to worry about falling victim to crime. 
There's also no concern about getting lost when in Portland as this is a relatively small city without complicated subway systems and the like.
For solo tourists, it's one of the easiest places to explore and great for people going on their first solo trip. 
I also noticed how accommodating and welcoming the eateries here were of solo diners.
Being a coastal city, Portland, ME is known for its seafood, and there are lots of restaurants that serve delicious fresh oysters and lots of other oceanic treats.
These are also perfect places to kick back and relax and just watch the world go by.
Things To Do On A Solo Trip To Portland, Maine
Traveling on your own can feel pretty daunting, especially if you've never done it before.
I remember the first solo trip I took and I was petrified about how I'd communicate with the locals (I was visiting a non-English speaking country), who I'd talk to over dinner, and whether I'd be the odd one out on day trips. 
But as it happened, traveling alone was one of the most invigorating, confidence-building things I've ever done.
And since then, I've braved it several more times; in fact, I like to think I'm pretty self-assured in my ability to spend time alone now. 
So, if you're heading to Portland, ME as a solo traveler, you'll need things to keep you occupied.
Here are my top suggestions. 
The Portland Museum of Art is a beautiful art gallery and is the oldest gallery in Maine. There's even a hidden treasure of two Picasso vases which are a must see. 
The International Cryptozoology Museum is the perfect place to discover oddities and the weird and wonderful world of legendary creatures like Bigfoot.  
The Old Port features quaint cobblestone street, places to try out the world-famous Portland seafood, cute little boutiques and some stunning 19th century architecture. If you're a night owl, then the area is also famed for its abundant nightlife. 
The Allagash Brewing company is the perfect place for beer lovers with craft beer tastings and food trucks for a spot of lunch. 
Deering Oaks is a large park that's great for walks. There's also a farmer's market very close by if you want to check out local produce. 
Located in Cape Elizabeth, the Portland Headlight is a must-see attraction that has been standing since 1791. This well preserved lighthouse is the oldest in the state and is an ideal base for exploring the local coastline. 
Practical Tips For Solo Travelers To Portland, Maine
One of the things that puts a lot of people off traveling alone are the practicalities.
However, Portland, ME is one of the easiest places for the newbie solo adventurer and these practical tips will make it even more manageable. 
Getting Around
As I mentioned earlier, exploring Portland, Maine is super easy. Even when you first arrive, there's no concern about getting lost of disoriented.
You'll fly into Portland International Jetport which is small and very easy to get around.
If this is your first time going on a solo trip, you won't need to contend with massive airports like JFK or LAX so you can relax from the moment you get off the plane.
Moreover, the airport isn't far from the main city, which can be accessed via and fifteen minute cab ride. 
The town itself can largely be explored on foot, but getting a cab or carshare is very easy.
It is possible to rent a car if you want to travel outside of the city but it's really not necessary, especially if you're only visiting for a few days. 
What I would urge you to keep in mind is that the parking in Portland, Maine isn't the best. So, this is something to think about before deciding whether to hire a car. 
Packing The Right Things
As I've mentioned, the weather in Maine is very diverse.
Even in summer, when things are hot, there's a chance of a cool sea breeze or the temperature dropping at night.
So, if you're out exploring in the evenings then I'd highly suggest packing a warm jacket. Of course, it really depends on the time of year you're traveling on what clothing essentials you pack. 
I'd also recommend taking a Portland guidebook.
While you can find a ton of information online, there's nothing quite as handy as a reference book in your backpack. Since there are so many things to see and do here, local guides are a must. 
But perhaps the most important thing to take as a solo traveler to Portland, Maine is a good pair of walking shoes.
It doesn't really matter whether these are comfortable sneakers or a sturdy pair of hikers as long as you're comfortable and the shoes are well broken in.
If there's one thing that's for sure, you're going to walk a lot!
Choosing Accommodation
Portland is a very popular tourist spot and as such, accommodation owners aren't afraid to hoik up their prices.
This is fine if you're traveling in a group and can split the cost but as a solo traveler, it does mean spending a little more than you may be used to on a place to stay. 
If you're really looking to save money then I'd suggest sticking with hotels, hostels, and Airbnb locations that are closer to the airport as these tend to be a little more affordable. 
Final Thoughts
If you're a solo traveler looking for an exciting yet easy place to explore on your first lone adventure then Portland, Maine is a great choice.
It's easy to navigate, is safe, and has lots to keep you busy from the moment you arrive until you begrudgingly depart.