Most of the hotels in New York have showers instead of bathtubs.
This is mainly because people today prefer a shower over a bathtub just because they like to do things in a hurry.
However, there are still some of us who prefer to soak in a bathtub, read a book, and drink a glass of wine.
Here are the 10 best hotels with amazing bathtubs in New York.
1. New York Marriott Marquis
The New York Marriott Marquis is a five-star hotel located in Manhattan, New York. One of the unique features of this property is the amazing bathtubs.
Placed in almost every room, these bathtubs feature spacious bathing areas with soothing jets. Guests can relax and refresh after a long day in busy New York.
The beautiful marble design gives each bathroom an extra touch of elegance, making it feel like a spa.
After spending time soaking and de-stressing in the bathtub, head over to one of the three on-site restaurants or order room service.
2. Martinique New York on Broadway, Curio Collection by Hilton
The Martinique New York on Broadway offers luxurious accommodations in the heart of Manhattan.
Each one of the 504 rooms is thoughtfully designed and equipped with amenities like complimentary Wi-Fi, plush beds and cotton linens, fully stocked minibars, and more. But the real luxury begins in the bathroom.
From a deep soaking bathtub to a rainfall showerhead, each bathroom features thoughtful finishes that provide guests with an unforgettable bathing experience.
The bathrooms come equipped with the luxury Comphy brand bath sheets for extra comfort and relaxation after a long day in the city.
Read next – 10 Best NYC Bodegas
3. Royalton Park Avenue, New York
Royalton Park Avenue is a modern four-star hotel located in downtown New York.
Known for its modern and sophisticated amenities, Royalton Park Avenue's bathrooms are a particular highlight.
Every room comes with an indulgent bathtub, perfect for relaxing with a glass of wine after a long day exploring the Big Apple.
The bathtubs are generously sized while the temperature control system allows you to customize the water's heat and create your own personal spa-like retreat.
To top it off, each bathroom is adorned with high-end finishes such as marble walls and floors.
4. The Dominick Hotel, New York
The Dominick Hotel is known for its luxurious amenities and stunning views of New York.
But this hotel has something that you can't find anywhere else – a bathtub with a breathtaking view.
From your private terrace, you can soak in a warm bathtub while watching the hustle and bustle of the city below.
Regardless of what the time of the day is, there's nothing quite like taking some time for yourself and relaxing in your own slice of paradise.
If that isn't enough, The Dominick also offers spa treatments and massages right on your balcony, so you can truly enjoy the stay.
5. Motto by Hilton New York City Chelsea
The Motto by Hilton New York City Chelsea is a luxurious five-star hotel located 1.5 miles from the center of New York.
Guests can expect nothing less than outstanding modern amenities, such as a range of bathtub features designed to provide an indulgent and relaxing experience.
The spacious bathrooms are equipped with deep bathtubs for long soaks, as well as rainfall showers, both of which feature adjustable water temperatures and pressure settings.
Amenities also include handy shelves above the tub for placing drinks and snacks while soaking in the tub.
To make things even more convenient, the hotel also offers complimentary toiletries in each bathroom, allowing guests to enjoy their time without worrying about packing supplies.
When done in the bathroom, you can head over to the on-site Italian restaurant for fine dining.
6. JW Marriott Essex House New York
The JW Marriot Essex House New York is a luxurious five-star hotel located in the center of Manhattan.
This five-star hotel offers one of the most extravagant bathtub amenities available in the Big Apple.
With relaxation in mind, the oversize bathtubs come with a variety of features that make soaking up even more pleasurable.
Features such as chromotherapy lighting, equipped Bluetooth speakers, adjustable showerheads, and water jets help guests relax at the end of the day.
For an extra special touch, guests can also opt for a massage jet system that offers an invigorating deep tissue massage while they soak.
In addition to having one of the best bathtubs in the city, the hotel also features two on-site restaurants and one bar.
7. The Pierre, A Taj Hotel, New York
The Pierre, a Taj Hotel, is situated on 61st Street, across from Central Park in New York.
One of the most impressive features of this luxury hotel is the incredible bathrooms, specifically the spacious bathtubs.
Each of the bathtubs is custom-made from luxurious Italian marble and features unique accents like intricate tile patterns.
The bathtubs provide ample space to relax and soak away your troubles while admiring breathtaking views of Central Park and the iconic skyline.
Thanks to the state-of-the-art heating system and adjustable jets, guests can enjoy a spa-like experience in their rooms.
8. Four Seasons Hotel, New York
The Four Seasons Hotel is located in downtown New York and has one of the most amazing bathtubs in New York.
I am talking about having a mini spa in your hotel room.
These bathtubs come with relaxing LED lights, built-in air jets to create a bubbly atmosphere, and even chromotherapy options that allow guests to choose the perfect ambiance.
Other bathroom amenities include chamomile bubble baths, luxury soaps, and shampoos, as well as an array of other luxurious items such as body oils and lotions.
When it's time to get out, there are plenty of cozy towels that the hotel imports from around the world.
9. The Langham, New York
The Langham is a five-star hotel located in Midtown Manhattan, New York.
This hotel offers a luxurious bathtub experience that makes guests feel like royalty. The hotel's bathtubs are made from hand-selected marble and decorated with beautiful mosaic tiles.
To make your experience even more spa-like, there is an adjustable digital temperature control system.
Furthermore, these premium bathtubs come with a Jacuzzi jet system for added relaxation and therapeutic benefits. All of these features combine to provide guests with ultimate comfort and relaxation.
10. Sheraton Tribeca New York Hotel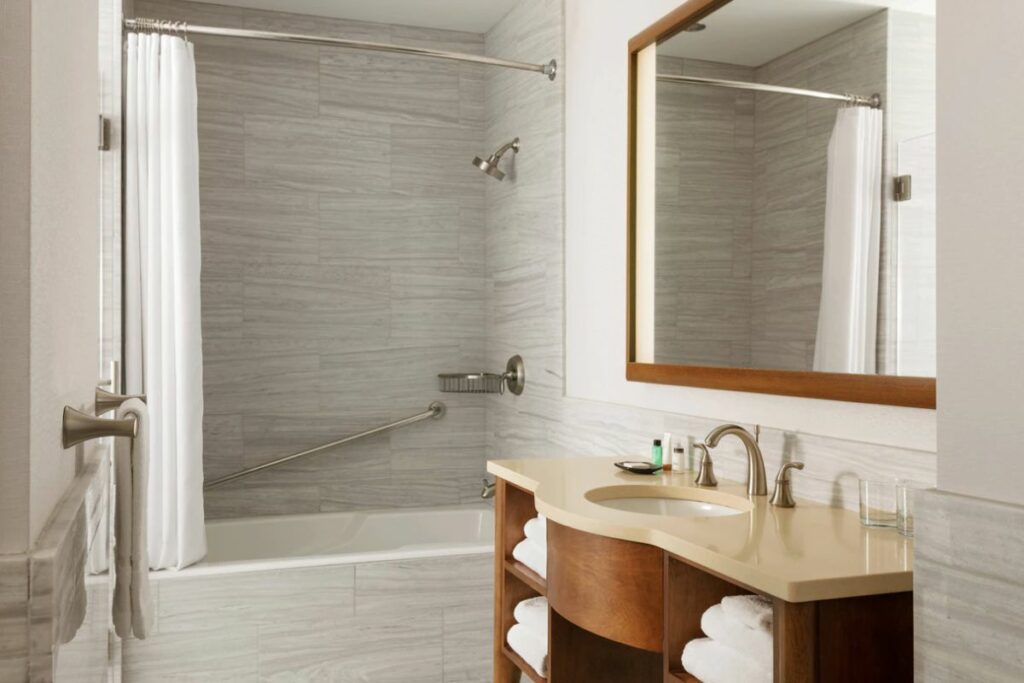 The Sheraton Tribeca New York Hotel is one of the best hotels in New York City.
With some of the best bathroom amenities, this hotel offers deep-soaking tubs perfect for long, relaxing soaks after a long day of sightseeing or business meetings.
Each room comes with high-end beauty products to ensure that guests have everything they need for an indulgent soak.
The luxurious bathroom features include a rainfall showerhead, adjustable temperature settings, and an LED light system to create a spa-like atmosphere.
In Conclusion
If you are searching for hotels with amazing bathtubs in New York, look no further. Head over to Booking.com and book the best hotel that will satisfy your needs.